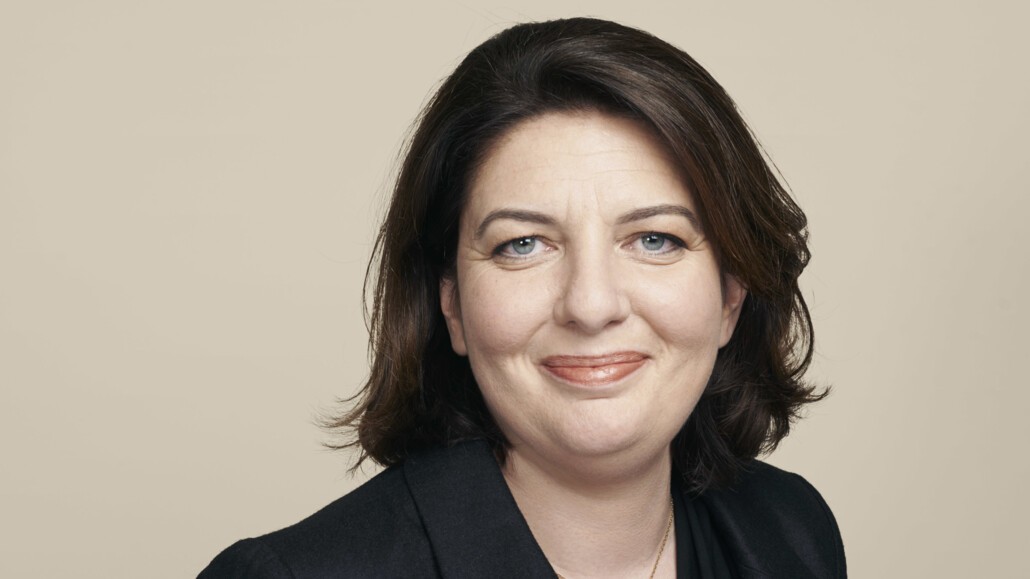 The Board of Directors of CPR Asset Management has appointed Amundi's Valerie Baudson as CEO of the company.  CPR Asset Management is a subsidiary of Amundi which manages, in particular, thematic equities with close to €38bn in assets under management.
The CPR Asset Management Board of Directors has also promoted Emmanuelle Court and Arnaud Faller, respectively, to Deputy CEO heading business development and Deputy CEO heading investments. Nadine Lamotte has been confirmed as Chief Operating Officer responsible for Administration and Finance.  The above named make up the Management Committee which also includes Gilles Cutaya, Head of Marketing and Communication.
°
°   °
Valérie Baudson
Valérie has been CEO, Exchange Traded Funds, Indexing & Smart Beta at Amundi since 2013. She is a member of the Executive Committee of Amundi and CEO of CPR Asset Management.
From 2004 to 2007, Valérie was Marketing Director and Member of the European Management Committee of Crédit Agricole Cheuvreux, the European Stockbroking subsidiary of Crédit Agricole Group. From 2001 to 2004, she held the position of Corporate Secretary and was a Member of the Management Committee. Valérie joined Crédit Agricole Cheuvreux in 1999 as Project Manager for the Senior Management team and was hired by Amundi in 2008 to launch and develop Amundi ETF.
Valérie started her career at Banque Indosuez where she managed international audit missions from 1995 to1999.
Valérie is a graduate from HEC (Haute Ecole de Commerce, Paris) where she majored in Finance.
Emmanuelle Court
Emmanuelle Court started her career in 1993 as Head of Control at Banque Paribas, and then Head of Private Banking customer base in 1996. In 1998, she joined the Institutional Sales team of Paribas Asset Management before joining SG Asset Management in 2000 where she became Head of Institutional and Retail Sales in 2004. She has been Head of Sales of CPR Asset Management since 2009.
Emmanuelle Court graduated from Institut Supérieur de Gestion.
Gilles Cutaya
Gilles Cutaya, started his career in 2000 as a Product Manager at Selftrade before joining Société Générale Asset Management in 2002 as an IT consultant. In 2004, he worked for Axa Investment Managers as a Product Engineer then joined Lyxor Asset Management in 2007 where he held several positions, before being appointed Head of Marketing and Strategy. In December 2015, he joined CPR AM as Head of Marketing & Communication.
Gilles Cutaya graduated from Ecole Supérieure de Commerce de Bordeaux.
Arnaud Faller
Arnaud Faller began his career in 1989 as new product engineer and fixed income manager at Banque Pallas. He joined CPR AM in 1993 as a portfolio manager of diversified and structured products and then became Head of Diversified and Convertible products (1999-2005). In 2005, Arnaud Faller was appointed Head of Diversified Management and Convertibles before becoming Chief Investment Officer in 2009. He is a member of the executive committee since 2005.
Arnaud Faller graduated from the l'Ecole Nationale de la Statistique et de l'Administration Economique (ENSAE) and the Institute of French Actuaries (IAF).
Nadine Lamotte
Nadine Lamotte started her career in 1990 at the Caisse des Dépôts et Consignations. In 1997, she joined Société Générale as Head of the Custodian Control department. She was subsequently promoted to Head of Products team within Société Générale Asset Management. Before joining CPR AM, Nadine Lamotte was Deputy CEO of Etoile Gestion (Amundi subsidiary) since 2010.
She holds a Master 2 in Finance from Lyon II University (1990).
About Amundi
About Amundi
Amundi, the leading European asset manager, ranking among the top 10 global players[1], offers its 100 million clients - retail, institutional and corporate - a complete range of savings and investment solutions in active and passive management, in traditional or real assets. This offering is enhanced with IT tools and services to cover the entire savings value chain. A subsidiary of the Crédit Agricole group and listed on the stock exchange, Amundi currently manages more than €1.9 trillion of assets[2].
With its six international investment hubs[3], financial and extra-financial research capabilities and long-standing commitment to responsible investment, Amundi is a key player in the asset management landscape.
Amundi clients benefit from the expertise and advice of 5,400 employees in 35 countries.
Amundi, a trusted partner, working every day in the interest of its clients and society
Footnotes
^ [1] Source: IPE "Top 500 Asset Managers" published in June 2022, based on assets under management as at 31/12/2021