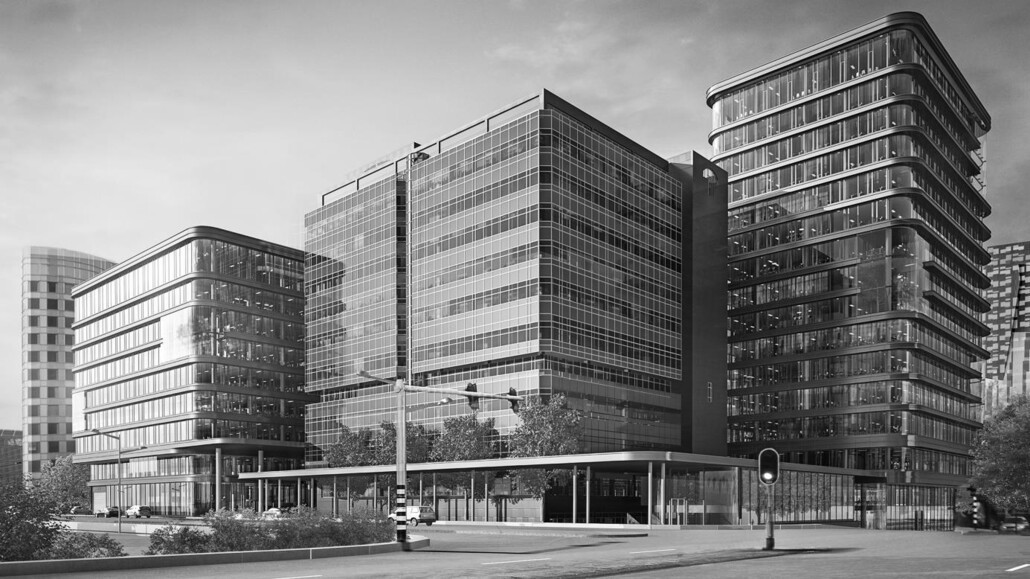 Amundi Real Estate has completed the acquisition of the structure holding the property "The Atrium" on behalf of its managed funds for retail investors as well as several Korean investors represented by the fund management company Koramco Asset Management. As announced in April earlier this year, the office complex, acquired from Victory Advisors' Icon Real Estate, is located in the South Axis business district in Amsterdam and offers around 60,000 m2 of office space.
"The Atrium" consists of a fully renovated pre-existing historical building constructed in 1976 and two new towers (the South Tower delivered in June 2017, and the North Tower delivered at the end of October) and a new underground parking facility. As per the sale agreement signed in April, the final closing of the transaction occurred after the North Tower had been completed.
Located in the heart of the city's business district, this complex enjoys an ideal location and excellent access. Close to motorway and rail networks, the "Amsterdam Zuid" station will become a true hub for Amsterdam with the "Zuidasdok" infrastructure development project planned for 2019-2028 with direct connections to all public transport networks (train, metro, tram and bus). A direct access to public transport will be built directly in front of the main entrance of the South Tower from 2021.
The building has indisputable rental appeal, as demonstrated by the lease by international tenants who enjoy peripheral services such as a conference center, gym and several restaurants.Pedro Antonio Arias, Director of Real and Alternative Assets at Amundi comments: "We have performed the most significant transaction on the Dutch market this year with the acquisition of « The Atrium ». The collaboration with Korean institutional investors confirms Amundi Real Estate's capabilities in structuring and executing large-scale complex operations with recognized international players in the heart of Europe's major urban centres".
Amundi Real Estate was assisted by L'Etoile Properties during the acquisition process who has also been managing the building since final delivery. Amundi Real Estate was advised by Greenberg Traurig on legal issues as well as SGS Search for the technical aspects. The financing was secured upon closing by a bank consortium made up of Dutch and German lenders.
Amundi Real Estate is Amundi's management company specialised in developing, structuring and managing property funds destined for private investors, private banks and their distributors, institutional investors, large companies and real estate professionals. 1st in terms of fund-raising for SCPI and retail OPCI (IEIF – June 2017) and 1st property investment trust (SCPI and OPCI) management company in France, in terms of capitalisation (IEIF – June 2017), it has €20.9 billion of AUM*.
*data from Amundi Real Estate as at 31 December 2016.
For more information: www.amundi-immobilier.com
Document
download.success
Unfortunately, it seems that we had a small technical problem. Can you try your luck again?
About Amundi
About Amundi
Amundi, the leading European asset manager, ranking among the top 10 global players[1], offers its 100 million clients - retail, institutional and corporate - a complete range of savings and investment solutions in active and passive management, in traditional or real assets. This offering is enhanced with IT tools and services to cover the entire savings value chain. A subsidiary of the Crédit Agricole group and listed on the stock exchange, Amundi currently manages more than €1.9 trillion of assets[2].
With its six international investment hubs[3], financial and extra-financial research capabilities and long-standing commitment to responsible investment, Amundi is a key player in the asset management landscape.
Amundi clients benefit from the expertise and advice of 5,400 employees in 35 countries.
Amundi, a trusted partner, working every day in the interest of its clients and society
Footnotes
^ [1] Source: IPE "Top 500 Asset Managers" published in June 2022, based on assets under management as at 31/12/2021