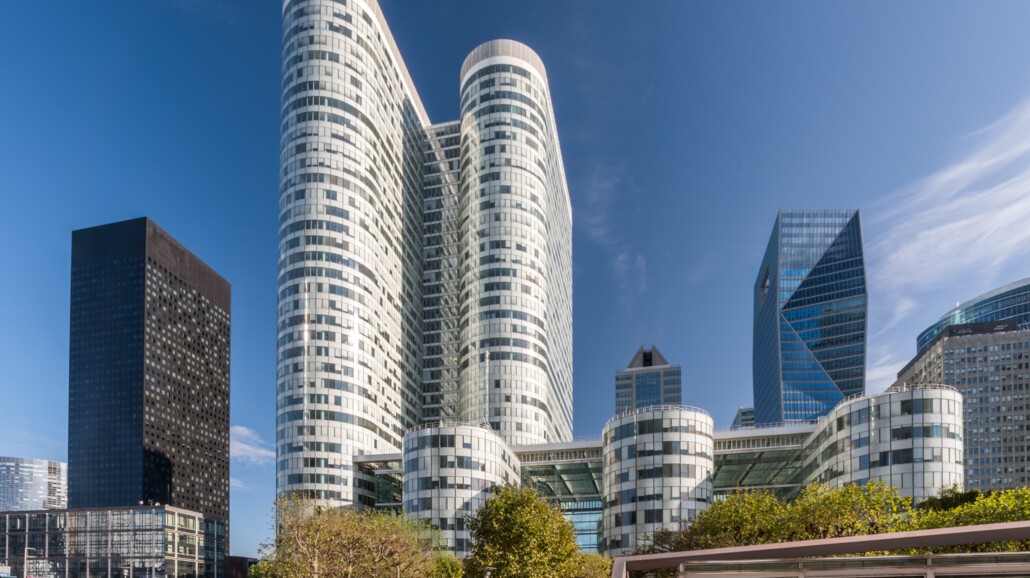 Amundi Real Estate, Crédit Agricole Assurances and Primonial REIM announce the 100% acquisition of HOLD (Heart Of La Défense) the owner of the largest office complex in Europe, "Coeur Défense", from an affiliate of Lone Star Real Estate Fund III. This property complex, located at La Défense business district in Paris, has more than 159,000m2 of office space.
Built under the direction of the architect, Jean-Paul Viguier, the complex was completed in 2001 and includes 5 towers linked by an atrium:
- 2 towers each comprising 40 floors of office space, with a surface area of 63,952m2
- 3 buildings each comprising 9 floors of office space and retail outlets: the B1 Tower (4,102 m2), the B2 Tower (13,099 m2) and the B3 Tower (14,353 m2).
The complex contains a conference centre (an amphitheatre with a capacity of 270, 7 modular meeting facilities and 2 reception centres), several staff restaurants, a concierge and a fitness centre of 1,000m2. 'Coeur Défense' also has a 6 level carpark and space for parking bicycles.
Jean-Jacques Duchamp, Deputy Chief Executive Officer of Crédit Agricole Assurances comments: "We are proud to announce the acquisition of Europe's largest commercial real estate complex, which offers today's highest standards in construction. This complex leased to large French and international companies enjoys a unique location in the top European business district. The acquisition of 'Cœur Défense' fits perfectly with our long-term investment strategy".
Pedro Antonio Arias, Director of Real and Alternative Assets, Amundi says: "This symbolic acquisition of 'Coeur Défense' is the largest in the French market this year. The asset is fully leased and enjoys excellent benefits in Europe's top business district. Through this deal, Amundi Real Estate strengthens its position as a key player in the commercial real estate market."
Laurent Fléchet, Chairman of the Management Board of Primonial REIM adds: "This operation is symobolic, in terms of size, location and the quality of design. We are very pleased and proud to be part of this acquisition alongside Crédit Agricole Assurances and Amundi Real Estate."
The purchasers were advised by White & Case, the law firm, Wargny Katz, the notary firm, Fidal, tax consultants, PwC, financial auditors and Nerco Ingénierie, technical auditors.
The seller was advised by Morgan Stanley, Rothschild, JLL, De Pardieu Brocas Maffei for the legal aspects and Franklin for fiscal aspects, Ernst & Young for financial, the Lasaygues notary office and by the auditor Artelia technique.
Amundi Real Estate is Amundi's management company specialised in developing, structuring and managing property funds destined for private investors, private banks and their distributors, institutional investors, large companies and real estate professionals. 1st in terms of fund-raising for SCPI and retail OPCI (IEIF – June 2017) and 1st property investment trust (SCPI and OPCI) management company in France, in terms of capitalisation (IEIF – June 2017), it has €20.9 billion of AUM*.
*data from Amundi Real Estate as at 31 December 2016.
For more information: www.amundi-immobilier.com
Crédit Agricole Assurances, Europe's leading bank insurer, holds all of Crédit Agricole's insurance entities. The group offers a range of products and services for savings, retirement, health, death & disability and property insurance. They are distributed via Crédit Agricole group banks in France and in 9 other countries worldwide, by wealth management advisers and insurance agents. Crédit Agricole Assurances companies meet the needs of individuals, professionals, farmers and businesses.
Crédit Agricole Assurances has 4,200 employees. Its sales at the end of 2016 amounted to €30.8 billion (IFRS).
Primonial REIM is a fund management company authorised by the Autorité des Marchés Financiers (AMF) in 2011. Its purpose is to design and manage a range of investment vehicles that reflect its strong convictions about real estate markets. Its aim is to make SCPI real-estate funds – investing in office, retail and residential properties – available to the widest possible audience.
As a portfolio management company, Primonial REIM creates and manages non-listed real-estate funds for institutional investors. On 10 June 2014, Primonial REIM obtained AIFM (Alternative Investment Fund Manager) authorisation from the AMF, under which it is subject to high standards in areas such as reporting, liquidity monitoring and risk management.
The Chairman of its Executive Board is Laurent Fléchet. Its Management Board consists of Grégory Frapet and Stéphanie Lacroix.
Key figures at 30 June 2017:
€12.4 billion of assets under management / 2,700,000 sqm of real-estate assets under management // 47,000 investors and more than 2,500 tenant companies // www.primonialreim.com
Document
download.success
Unfortunately, it seems that we had a small technical problem. Can you try your luck again?
About Amundi
About Amundi
Amundi, the leading European asset manager, ranking among the top 10 global players[1], offers its 100 million clients - retail, institutional and corporate - a complete range of savings and investment solutions in active and passive management, in traditional or real assets. This offering is enhanced with IT tools and services to cover the entire savings value chain. A subsidiary of the Crédit Agricole group and listed on the stock exchange, Amundi currently manages more than €1.9 trillion of assets[2].
With its six international investment hubs[3], financial and extra-financial research capabilities and long-standing commitment to responsible investment, Amundi is a key player in the asset management landscape.
Amundi clients benefit from the expertise and advice of 5,400 employees in 35 countries.
Amundi, a trusted partner, working every day in the interest of its clients and society
Footnotes
^ [1] Source: IPE "Top 500 Asset Managers" published in June 2022, based on assets under management as at 31/12/2021