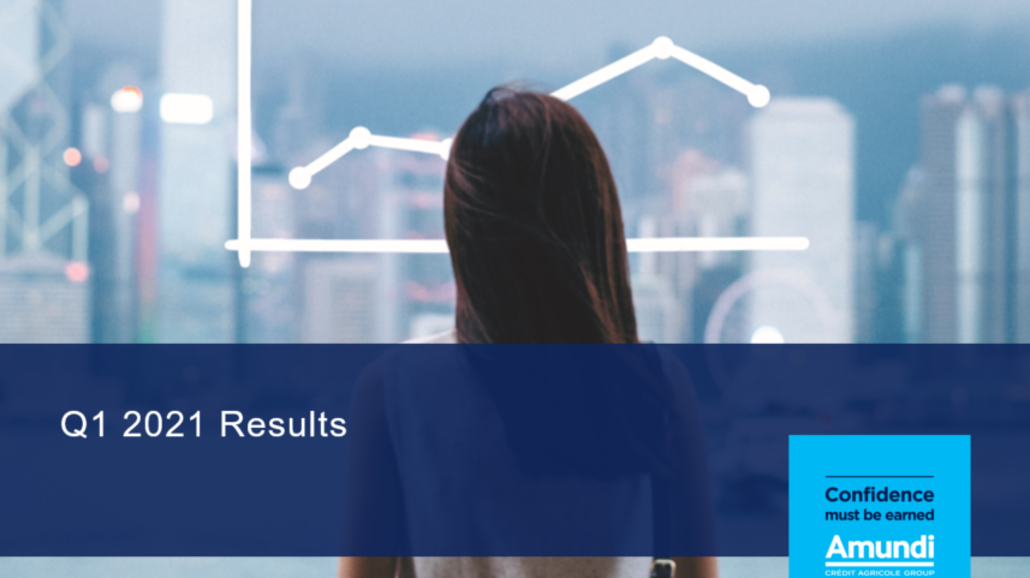 Net income up sharply (+50% vs. Q1 2020 and +7% vs. Q4 2020[1])
Robust inflows[2] on MLT assets[3] (+€9.8bn[4]), particularly in Retail
Results

Adjusted net income1 of €309m (+50.1% vs. Q1 2020 and +7.1% vs. Q4 2020)

Net asset management revenues up by +15.1% vs. Q1 2020

, driven by management fees (+5.1% vs. Q1 2020) and a high level of performance fees (€111m vs. €42m in Q1 2020)

Cost/income ratio of 48.8%1

(vs. 54.1% in Q1 2020)

Business activity

AuM2 of €1,755bn at 31/03/2021, up +14.9% year-on-year (+1.5% for the quarter)
Robust inflows in MLT assets3-4: +€9.8bn driven primarily by Retail (+€7.8bn)
Outflows in treasury products (-€18.6bn4) linked to the interest rate environment
Positive momentum in JVs (+€3bn) but outflows in Channel Business in China
(-€7.0bn) as expected

Total net inflows of -€12.7bn

Lyxor

On 7 April 2021, Amundi entered into exclusive negotiations with Societe Generale for the acquisition of Lyxor

This acquisition improves Amundi's key expertise, mainly in the fast-growing ETF market, and generates substantial value

Completion of the transaction is expected no later than February 2022
Paris, 29 April 2021
Amundi's Board of Directors, chaired by Xavier Musca, convened on 28 April 2021 to review the financial statements for the first quarter of 2021.
Commenting on the figures, Yves Perrier, CEO, said:
"Amundi recorded very good performances in the first quarter of 2021: results improved substantially, inflows in MLT assets were strong and operational efficiency continued to improve. The strategic initiatives launched in 2020 (the partnership with Banco Sabadell, the joint venture with Bank of China, and Amundi Technology) are starting to bear fruits. The acquisition of Lyxor will be a new driver of growth.
Such strong performances prove that, since its creation, Amundi's development strategy has been relevant, consistently implemented, and disciplined in its execution. This strategy has made Amundi the European leader and a recognised global player.
As I prepare to hand over general management to Valérie Baudson, and succeed Xavier Musca as Chairman of the Board of Directors, I would like to thank Xavier for his support, and all of Amundi's employees for their contribution to the company's success."
Footnotes
Adjusted data: excluding amortisation of distribution contracts. See page 7 for definitions and methodology.
Assets under management and net inflows including Sabadell AM as of Q3 2020, BOC WM as of Q1 2021, include assets under advisory and assets marketed and take into account 100% of the Asian JVs' assets under management and net inflows. For Wafa in Morocco, assets are reported on a proportional consolidation basis.
Medium/Long-Term Assets: excluding treasury products.
Excl. JVs
Document
download.success
Unfortunately, it seems that we had a small technical problem. Can you try your luck again?
About Amundi
About Amundi
Amundi, the leading European asset manager, ranking among the top 10 global players[1], offers its 100 million clients - retail, institutional and corporate - a complete range of savings and investment solutions in active and passive management, in traditional or real assets. This offering is enhanced with IT tools and services to cover the entire savings value chain. A subsidiary of the Crédit Agricole group and listed on the stock exchange, Amundi currently manages more than €1.9 trillion of assets[2].
With its six international investment hubs[3], financial and extra-financial research capabilities and long-standing commitment to responsible investment, Amundi is a key player in the asset management landscape.
Amundi clients benefit from the expertise and advice of 5,400 employees in 35 countries.
Amundi, a trusted partner, working every day in the interest of its clients and society
Footnotes
^ [1] Source: IPE "Top 500 Asset Managers" published in June 2022, based on assets under management as at 31/12/2021