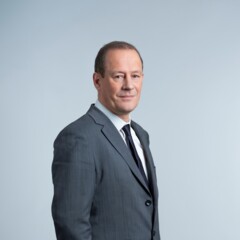 Arnaud Fricaudet
Head of Amundi Technology
Arnaud Fricaudet is Head of Amundi Technology. Arnaud Fricaudet began his career in the Asset Management industry in 1993 within the IT department of SUNGARD. In 1997, he joined the IT department of Crédit Lyonnais Asset Management (CLAM) where he was in charge of part of the development teams. He then took on wider responsibilities at the time of the merger with Crédit Agricole Asset Management as Head of IT Research. At the time of the merger between Crédit Agricole Asset Management and Société Générale Asset Management, Arnaud led the IT merger, before taking over as head of IT for the newly created entity, Amundi. Since 2007, Arnaud has been Amundi's IT Director, with a focus on IT integration and migration following Amundi's acquisition of Pioneer Investments.
Arnaud Fricaudet holds a Master's degree in Management Information Technology (MIAGE) from the University of Paris 11 Orsay.
About Amundi
About Amundi
Amundi, the leading European asset manager, ranking among the top 10 global players[1], offers its 100 million clients - retail, institutional and corporate - a complete range of savings and investment solutions in active and passive management, in traditional or real assets. This offering is enhanced with IT tools and services to cover the entire savings value chain. A subsidiary of the Crédit Agricole group and listed on the stock exchange, Amundi currently manages more than €1.9 trillion of assets[2].
With its six international investment hubs[3], financial and extra-financial research capabilities and long-standing commitment to responsible investment, Amundi is a key player in the asset management landscape.
Amundi clients benefit from the expertise and advice of 5,400 employees in 35 countries.
Amundi, a trusted partner, working every day in the interest of its clients and society
Footnotes
^ [1] Source: IPE "Top 500 Asset Managers" published in June 2022, based on assets under management as at 31/12/2021